by Dave
|
Last Updated:
March 23, 2018
"I'm going camping this weekend." These days that can mean a lot of different things.  Let me give you a couple of examples from opposite ends of "camping," then we'll fill in the middle.
Several summers ago I had the pleasure of meeting and spending some time talking with a wonderful retired couple, Hope and Fran.  Fran has been a woodsman all his life.  He has hunted with a bow and rifle in many parts of the US and taken quite a bit of big game.  Packing into the back country on horseback, staying in rough camps for weeks at a time is Fran's idea of time well spent.  Hope grew up in the outdoors, camping, horseback riding, and hiking.  Fran told me that many years ago when he was courting Hope he asked her to go backpacking.  She agreed and Fran took a lot of care to make the trip special.  Hope was a little surprised right off the bat.  She was expecting a trail.  But Fran knew where he wanted to camp, got out his compass and they started off.  Later they cooked steaks over the fire and enjoyed a bottle of wine in a beautiful spot.  Hope had a great time and the weekend went by too quickly.
When they got back Fran knew he had found his mate for life and asked Hope to marry him.  They have been together ever since.  They have spent their lives in the north in the spring.  In the fall they head west to hunt.
Their camper is a 26 or 28 footer,  and they have modified it for year round living.  They like quiet campgrounds with electric hookups, a fire ring, showers, and a little convenience. Their style has changed over the years, but they are always camping, in their own way.
Now for the other end of "camping".     The best example I know personally is  Terry Barney. known on Youtube as IAwoodsman, Terry is a  former US Air Force SERE instructor.  SERE stands for survival,evasion, resistance, and escape.  Now a civilian, Terry runs the "Midwestern School of Bushcraft" and is passing on his knowledge of how to not only survive, but thrive in the bush with minimal equipment and shelter.   Not long ago he made a video of a weekend camping trip in winter with temps well below freezing.  I think his gear consisted of a nail clipper, half a cheese sandwich and a yoyo string.  Needless to say he got along fine and had a great weekend.   I might be exaggerating about his gear because I'm pretty sure he ate the sandwich on the way there.
I had the pleasure of meeting Terry at one of his  "bushcraft" classes I attended  in Indiana some  years back.  The two day course included making shelters from natural materials found in the wild, tarp shelters, firecraft, tool making, knife use, natural cordage, knots, basic first aid for common outdoor injuries , campfire cooking and much more.      From the diverse group of people attending the class it is obvious the "bushcraft" camping style is catching on. We had a lawyer, executives, law enforcement officers, retirees, medical professionals, a chef, knife makers  and who knew what else.    What they had in common was a love of spending time in the outdoors and an interest in learning new skills or improving the skills they had.    Of course we camped at the class site and the camping equipment used was diverse as well.    Some used hammocks suspended in trees with an over tarp, some like myself used small tents.    One guy that is interested in period reenactment used a  canvass and wood frame   Whelen  style shelter.  One bushcrafter made  a mattress of leaves and grasses gathered on site and wrapped in a plastic sheet.    He had the skills and he slept well.
The growing popularity of  "bushcraft" style camping  can be seen by going online to the BushcraftUSA website.    With over 8000 active members and a motto of Knowledge, Skills and Integrity, this on line community is dedicated to teaching bushcraft skills, and encouraging people to get into the outdoors.    Needless to say discussion on camping equipment, from hammocks, tents, tools, tarps, clothing, packs, and all things outdoor plays a huge roll in this and an interest in not roughing it, but smoothing it,in the woods prevails.
The campers in the middle are many and varied. You have your back country hunters in their wall tents, the ultra light back packers who weigh their gear and go by the "if you can cut enough grams you'll cut a pound motto.   You have your car campers with the family pop up and the rack full of bikes heading for their favorite state park, and all the campers that are really none of the above or even a mix of several styles.
Its all camping, we don't have to define it. What's encouraging to me is that in this high tech fast paced world we live in, people still want to get outside.    The simple pleasure of packing up and heading out, whether it means the 30 foot camper or a tarp shelter is still there.   For the kids the dark night, a flashlight, a campfire and some marsh mellows on a stick is still an adventure. Even if it might mean they don't have cell service for a little while.
Whatever your style, whatever your gear, wherever your favorite camp site, pack your spam and get out there soon.  If you haven't camped for a while you'll wonder why you ever stopped.  Just tell the boss, "Hey I'm going camping this weekend."   Camping?  Yeah, its a relative term.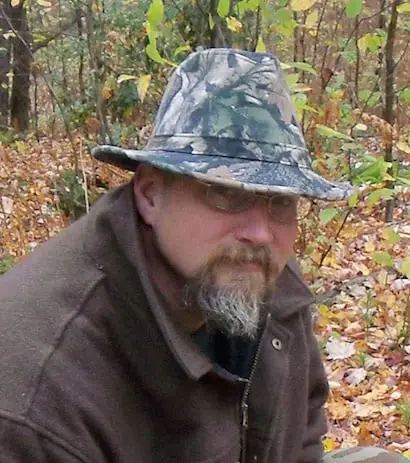 Dave is a life long outdoorsman and can be found camping in all four seasons. He spends as much time as possible on the rivers and in the woods canoeing, camping, fishing and hunting. He teaches bushcraft and woodsmenship to beginners and people that want to feel more confident and competent in the outdoors. Check out the course page for course relevant information.